BW Clip 单一气体检测仪(免维护型)

检测:H2S,CO,O2,

SO2

«

便携式气体检测仪
 
BW Clip 单一气体探测器
免维护,用户友好,性能可靠。

The BW Clip maintenance-free single-gas detector is the most reliable, user-friendly, cost-effective way to keep workers safe and operations compliant. It delivers up to three years of protection — with no need for calibration, sensor replacement, battery replacement or battery charging.

特点与优点
Available in a two-year or three-year version for H2S or CO
Available in a two-year version for O2 or SO2
Unique hibernation case extends service life for the two-year BW Clip for H2S or CO
Compact, lightweight and easy to use — with one-button operation and no extensive training

规格一览
Automated self-test for improved safety
Automatically logs the 35 most recent gas events for easy, accurate recordkeeping
Compatible with the IntelliDoX instrument management system for extremely quick bump tests, bump test tracking, adjustable set points and more
Also compatible with MicroDock II docking station and Fleet Manager II software
Maintenance-free: no sensor or battery changes necessary
Compact, lightweight design with one-button operation
Designed for a range of harsh environments and extreme temperatures
Hibernation mode with case accessory or IntelliDoX
Automated self-test of battery, sensor and electronics
Wide-angle flash, which alerts simultaneously with audible and vibrating alarm
Automatic logging of the 35 most recent gas events and bump test results
Compatible with MicroDock II and IntelliDoX instrument management systems
Affordable, with low cost of ownership
Configuration of high and low alarm set points before the device is activated
Adjustment of alarm set points and other parameters as needed throughout the lifespan
Option to enable the noncompliance indicator, which flashes red when a bump test is due or a gas event occurs
Option to display gas reading during alarm
User settable bump test reminder
Option to display the Real Time Clock
The most user-friendly, reliable and cost-effective
way to ensure safety and compliance
The BW Clip single-gas detector is your everyday companion for
hazardous environments. It operates up to three years maintenance-free:
Just turn on the device and it runs continuously — no need for calibration,
sensor replacement, battery replacement or battery charging. That means
great reliability and no downtime.
Plus, with the two-year BW Clip for H2S or CO, you can put the device
in a hibernation case when you're not using it for a week or more — and
extend its life by that period of time.
Compatible with both the MicroDock II and the IntelliDoX instrument
management systems, the BW Clip is engineered to the highest standards
of quality and reliability, keeping you safe and compliant.
Standard Package Contents
• Detector complete with specified sensor, stainless steel alligator clip
and concussion-proof housing
• Test cap
• Instructions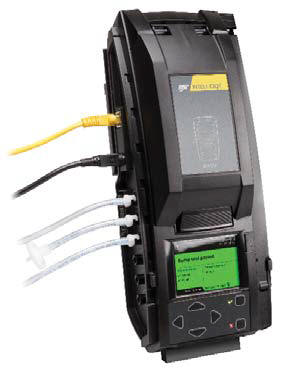 IntelliDox
DX-CLIP & DX-ENBL-NA
IntelliDoX is an instrument management system bringing a new level of customization to portable gas detection. Combining smart docking modules and Fleet Manager II software, the system helps you drive productivity, reliability and efficiency, while configuring detectors to meet changing requirements.